Best Time to Visit : September to November
Languages : Hindi, Garhwali, English
STD Code : 01374
Uttarkashi town, the headquarters of the district by the same name, is more on the pilgrimage circuit than the regular tourist circuit. Nevertheless, with trekking and mountaineering gaining popularity as adventure sports, the importance of this region cannot be discounted. The region has some high-altitude lakes and the Gangotri and Yamunotri glaciers lead on to several major peaks?the hunting grounds for serious mountaineering buffs.
As the name suggests, Uttarkashi is considered the northern Kashi or Varanasi. The town is situated at an elevation of 1,550 m on the right banks of river Bhagirathi. It is a district located in the northern Himalayan state of Uttaranchal. Its margins also mark the Indo-Chinese precincts. It is 155 km north of Rishikesh and 100 km from Gangotri, and is couched in the Garhwal hills. The winters last from October to March, when temperatures fall very low. The monsoons are generally experienced in the months of July and August.
PLACES OF INTEREST
Uttarkashi, like Varanasi, is known as a site for Hindu pilgrimage. Like Varanasi, it too, has a Vishwanath temple. The temple has a magnificent trishul or trident, one meter in circumference and made of copper. It supports a trident four meters long. Each prong is about two meters in length. Uttarkashi is known for its temples dedicated to Rishi Parasurama, Datatryea, Goddess Annapurna Devi, Goddess Kali, and Bhairon. At one time, there were 365 temples in this town. The town is also known for its various ashrams, which are the homes of the sanyasis and hermits.
ADVENTURE OPPORTUNITIES
Among the popular treks are those to Nachiketa Tal, Dodi Tal, Dayara Bugyal (bugyal, a high-altitude meadow), Sat Tal, Kedar Tal, Gangotri? Gaumukh? Nandanvan Tapovan and to Yamunotri (the source of the river Yamuna).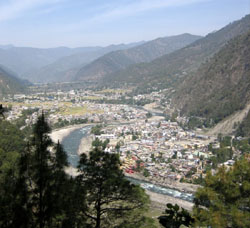 Nachiketa Tal can be accessed from Chaurangi-Khal (29 km from Uttarkashi town by road) and a further trek of 3 km through very scenic surroundings. Accommodation is available at Chaurangi-Khal in a PWD inspection bungalow. For Dodi Tal, trekkers can go by road to Kalyani. From here on has to go a further 5 km to Agoda. The trek to Dodi Tal (16 km) ascends gradually from here through thick forests and scenic hill landscape. The lake, situated at an elevation of 3,307 m, has accommodation facilities by way of a forest rest house and a log cabin. Permits to fish for trout here can be had from Uttarkashi.
Serious trekkers can envisage going beyond Dodi Tal to Yamunotri. The trail from Dodi Tal to Hanuman Chatti is 27 km and Yamunotri a further 13 km from there. The trek to Dayara Bugyal commences from Barsu, near Bhatwadi (32 km from Uttarkashi en route to Gangotri). The trek itself is about 8 km and reaches an altitude of about 10,000 feet. During winters the almost 28 sq km of gradual slopes make the place ideal for skiing. A trail leads from here to Dodi Tal (30 km) passing through very dense forest.
Sat Tal (or the seven lakes) is accessible from Dharali, 74 km from Uttarkashi, en route Gangotri. A short trek of 7 km will lead the visitor to this memorable group of lakes. While Gangotri and the motorable route from Uttarkashi to Gangotri are enchanting by themselves, the former is not without trekking options, albeit mostly in the higher regions. Gangotri has a tourist bungalow and several other lodging facilities (which must be booked in advance during the yatra season). Trekking in these areas is serious business. The 18-km trek to Kedartal takes one to a height of 15,000 feet and is not recommended for the amateur. An easier proposition is to go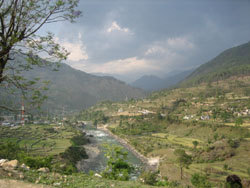 further up to the glacier?s head at Gaumukh?the source of the mighty Ganges. It is 18 km from Gangotri but the trek is not arduous. Going 6 km further up from Gaumukh to Nandanvan Tapovan is somewhat more specialized since it involves traversing the glacier itself. The reward at Tapovan is a fascinating close encounter with many famous peaks like the Shivling, Satopanth and Kalindi Khal.
The Nehru Institute of Mountaineering is located in Uttarkashi. It is situated at a spur at Ladari, dominating the beautiful town and overlooking the entire valley. This institute imparts mountaineering training to young people to inculcate the spirit of adventure among the youth of the country.
HOW TO REACH
One can reach Uttarkashi from Rishikesh by bus. The nearest airport is Jolly Grant in Dehradun. One can take a bus from here to Rishikesh and then proceed further. The railhead is at Rishikesh.
PLACES TO STAY
Uttarkashi offers limited accommodation opportunities. There are a few private hotels as well that offer accommodation ranging from medium to budgetary ones. The food served here is largely vegetarian, although non-vegetarian food is also found. Intake of alcohol is not encouraged.
Hotel Shivlinga, Uttarkashi
Hotel Mahima Resort, Uttarkashi
Hotel Bhandari Annaxe, Uttarkashi
Hotel Monal, Uttarkashi
Hotel Ekant, Uttarkashi