fonte lactis ubertim manante:

atque aundante opis egentissimum et illoa dhuc uno alimento vitam ucentemon sortem non pati. sed blande tole ran tur haec, non quia .

read more>>
fonte lactis ubertim manante:

atque aundante opis egentissimum et illoa dhuc uno alimento vitam ucentemon sortem non pati. sed blande tole ran tur haec, non quia .

read more>>
fonte lactis ubertim manante:

atque aundante opis egentissimum et illoa dhuc uno alimento vitam ucentemon sortem non pati. sed blande tole ran tur haec, non quia .

read more>>

India Tours - Tourist Destinations of Goa
Most of Goa's larger towns are situated in the coastal belt where the Portuguese first settled, and their character was formed slowly through the centuries of Christian rule. They are small certainly by Indian standards, as the mainstream of Goan life flows largely in its villages. Apart from well-known centers like Panjim and Old Goa, there are places like Vasco da gama is slowly developing into an industrial center: Marmagoa, Goa's port, is one of India's finest natural harbor's; Mapusa in north is an interesting traditional market town.
Panaji
The capital of Goa and headquarters of North Goa District, a small a charming city on the left bank of silvery Mandovi River, with beautiful red-roofed houses, built in Latin style, also boasts of many modern houses, well laid garden, statues and avenue's lined with Gulmohar, Acassia and other trees.
Pilar
It Has a length of11 Km. from Panaji. It has important religious and educational centre of Christian Missionaries. The Church, Seminary and School atop hillock command a magnificent panorama of the country side around and provide fine view of Mormugao Harbour & Zuari river.
Mapusa
It is 13 Kms. from Panaji. The capital of Bardez Taluka, on the national highway, is the cross roads of the network of highways covering whole of Northern Goa. It is in north of goa and an interesting traditional market town

Margao
Margao, the second largest town in Goa and the principal commercial center. It is 33 Kms. from Panaji..There are some interesting places around Margao. About 3 Km. from the small village of Raia, which is one the road from Margao to the Borim Bridge, is the Rachol Seminary and Church. The old church dates from the early 1600's and the seminary has interesting architecture, a decaying library and interesting paintings of Christian characters done in Indian styles.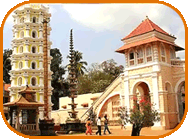 Ponda
Ponda can be described as the Hindu heart of Goa. It is famous for the five important temples that are situated around the town, and also has the largest mosque in Goa. Most of these temples look relatively new as they have been restored after being destroyed by the Portuguese. That explains why there are no temples around the coast, which was the prime territory of the Portuguese. Ponda is also an important transport link.

Vasco-De-Gama
It is 30 kms. from Panaji. A modem, well laid out city close to Mormugs Harbor, has beautiful and extensive avenues. Vasco da gama is slowly developing into an industrial center. The air terminus of Goa at Dabolim lies on the outskirts of the city. It is also the railway terminus for passenger service in the South Central Railway.