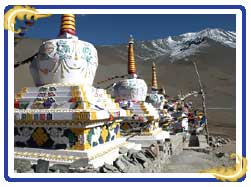 Himachal Pradesh is a captivating region of the Indian Himalayas. It is often referred to as the "Magical Showcase of Nature's Splendor" ideal for the travelers to travel, enjoy and relax. Abundant green grassland and wide valleys set against imposing snow-clad mountains; crystal clear lakes, flowing rivers and spurting streams; fruit laden groves and soft terraces of corn and tea are characteristics of Himachal Pradesh. It is the ultimate travel destination of India.
The state of Himachal Pradesh has boundaries with the Jammu and Kashmir in the North, Uttar Pradesh in the Southeast, Haryana in the South and Punjab in the West. It is located between 30"22' and 30"12' north latitude and between 75"47' and 79"4' east longitude. The mountainous state has altitudes ranging from 350 to 7000 meters (1050 ft. to 21000 ft.) above the sea level. The mountain state of Himachal Pradesh, in the beginning, was formed as a centrally administered territory on April 15, 1948 by the consolidation of 30 hill provinces of Punjab. It became a Part C State under a Lieutenant Governor, with a Legislative Assembly of 36 members and a Cabinet of three ministers in 1951. In 1954, Bilaspur, another Part C State, was integrated with Himachal Pradesh and the strength of the Assembly was raised to 41 members. In 1956, the States Re-organization Commission recommended the unification of Himachal Pradesh with Punjab. But the people of Himachal Pradesh opposed and the proposal was overruled.
Till October 1966, Himachal Pradesh comprised only of six hill districts of Mahasu, Mandi, Chamba, Sirmaur, Bilaspur and Kinnaur. In November 1966, it was expanded with the inclusion of some of the hilly towns of Punjab like Shimla, Kangra, Kullu, Lahaul, Spiti, Nalagarh tehsil of Ambala district, and areas of Hoshiarpur and Gurdaspur districts. Himachal Pradesh was formed into 10 districts and was declared a state on January 25, 1971, with Shimla as its capital. The 12 districts of Bilaspur, Chamba, Hamirpur, Kangra, Kinnaur, Kullu, Lahaul & Spiti, Mandi, Shimla, Sirmaur, Solan and Una were re-organized into the districts of the state in 1972-73.
Today, Himachal Pradesh is one of the most important travel destinations in India. The high hills of Himalayas attract the travelers from all over the world. Himachal Pradesh has plenty of hill resorts, pilgrimage centers, adventure sports destinations and wildlife that attracts a wide range of tourist traffic.
Himachal Pradesh India has several travel plans for the visitors to Himachal Pradesh . We have made special travel packages in collaboration with the leading Holiday Resorts and Hill Resorts of Himachal Pradesh. Travel to Himachal Pradesh with Himachal Pradesh India and relish the unmatched beauty of Himachal Pradesh. We also offer exciting Honeymoon Packages for the newly wed couples as well as young-at-heart married couples. Our committed team of travel professionals endeavors to give you out-of-world travel plans for Himachal Pradesh. Travel to Himachal Pradesh and experience for yourself.