fonte lactis ubertim manante:

atque aundante opis egentissimum et illoa dhuc uno alimento vitam ucentemon sortem non pati. sed blande tole ran tur haec, non quia .

read more>>
fonte lactis ubertim manante:

atque aundante opis egentissimum et illoa dhuc uno alimento vitam ucentemon sortem non pati. sed blande tole ran tur haec, non quia .

read more>>
fonte lactis ubertim manante:

atque aundante opis egentissimum et illoa dhuc uno alimento vitam ucentemon sortem non pati. sed blande tole ran tur haec, non quia .

read more>>

India Tours - Kerala Tour
---
Duration: 09 Nights / 10 Days
Places Covered: Kochi - Munnar - Periyar - Kumarakom - Alleppey

---
Day 1: Arrive Kochi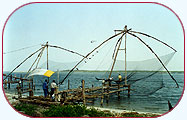 Arrival at Kochi (Cochin) meet and assistance at the railway station by our representative and transfer to your hotel. Half day sight seeing of Cochin by boat. Over night stay at hotel. Cochin set on a cluster of islands and narrow peninsulas, the port city of Cochin (Kochi) (Queen of Arabia) reflects the eclecticism of Kerala perfectly. With a rich past and a bustling present, it has been the business hub of the region from the very early days after Alleppey (Alappuzha). Cochin consists of mainland Ernakulam, the islands of Willington, Bolgatty and Gundu in the harbour, Fort Cochin and Mattancherry on the southern peninsula, and Vypeen Island north of Fort Cochin, all was linked by ferry but now some islands have bridges. The influence of Chinese, Jews, Arabs and Europeans is evident in Cochin and its people. The oldest church in India, 500-year-old Portugese houses, old tiled houses built in the Chinese pagoda style, the famous Chinese fishing nets, a Jewish community whose roots go back to the Diaspora, synagogues and mosques all tell the fascinating story of this harbour town. The harbour is still at the heart of the city and pepper, sea food, rubber and coir mats and matting are exported from here. Despite this, Cochin is an attractive city with serene creak & lagoons overhung with feathery coconut palms and picturesque islands. The older parts of Fort Cochin and Mattanchery are an unlikely blend of medieval Portugal, Holland and an English country village grafted onto the troppical Malabar coast. Cochin is one of India's largest ports and a major naval base.

Day 2: Kochi to Munnar
Proceed to Munnar enjoying the scenic beauty & the marvelous waterfalls, high mountains with the low flying clouds passing by. Enjoy boating in the afternoon. Overnight stay at hotel. In the morning depart for Munnar (approx.4 hours journey), enjoying the scenic beauty & the marvelous waterfalls, high mountains with the low flying clouds passing by. Arrive Munnar and check in at hotel. Overnight at Munnar. Munnar is situated at the confluence of three mountain streams namely Mudrapuzha, Nallathanni and Kundala. This hill station, located at an altitude of 1600 m above sea level, was once the summer resort of the erstwhile British government in South India. Sprawling tea plantations, picture book towns, winding lanes and holiday facilities make this a popular resort town. Among the exotic flora found in the forests and grasslands is the 'Neelakurinji'. This flower which bathes the hills in blue every twelve years will bloom next in 2006 AD. Munnar also has the highest peak in south India, Anamudi, which towers over 2695 m. Anamudi is an ideal spot for trekking

Day 3: Munnar - Anamudi - Munnar
Morning, after breakfast, visiting tea plantations, Anamudi, Eravikulam National Park, Devikulam, Mattupetty, Pallivasal, Pothamedu, Attukal etc. Rest of the day at leisure. Overnight at Munnar.

Day 4 : Munnar - Periyar
Morning, proceed to Periyar on the way visiting Idukki dam. On arrival check in at hotel. Periyar wildlife sanctuary is home to nomadic tribes of wild elephant, boar, deer, the great Indian tiger and more. Evening go for boat cruise in the lake to watch wild animals. Overnight stay at Periyar.

Periyar: One of the well known wildlife sanctuaries in the south, Periyar sanctuary attracts a large number of nature lovers every year. Also called the Thekkady Wildlife Sanctuary, this place is ideal for watching the animals in their natural habitat.

The forest here, slopes into the manmade lake at the bottom of the hill. This lake serves as the waterhole for the animals and they come here to drink or take a dip. Elephants, Gaur, Sambhar and even tigers can be spotted here. There are boat services which takes the visitor around the lake. The best season to visit the park is between October and June. Spread over 777 sq.km of the Cardamom Hills of Western Ghats, the Periyar sanctuary is located 137 km from Madurai. Although an excursion on the splendid artificial lake is the standard way to experience the sanctuary, you can also walk around with the local guide in a small group. Wild Elephant herds come to the lake to frolic in the water. Other attractions of the sanctuary are the Sambhar, Bison, Spotted Deer, Tigers, Leopards, Malabar Flying Squirrels, Stripe necked Mongooses, etc. There are over 260 species of birds here, including Nilgiri Wood Pigeons, blue-winged Parakeets, White bellied Tree Pies, laughing Thrushes and Fly Catchers.

Day 5: Periyar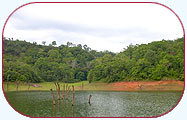 Morning, after breakfast boating through Periyar lake - Wildlife sanctuary. You can visit the rare species of plants and animals. Afternoon visit spice plantations like cardamom, cinnamon, pepper, coffee, tea estates etc. on your way back to the hotel, you could stop at the local market and pick up some fragrant spices. Overnight stay at Periyar.

Day 6: Periyar - Kumarakom
Early morning proceed to Kumarakom. Reach and visit the Bird Sanctuary. Proceed to the Vembanand Lake. Check into a traditional houseboat of Kerala Style and go on a leisurely backwater cruise along the lake on a thatched houseboat. The houseboat with all modern comforts lets you discover the countryside at your own pace. You will have lunch, dinner and breakfast in the Houseboat. A ride on the houseboat is a fabulous way to explore the fascinating beauty of the backwaters. Cruise through the backwaters to Alleppy. Overnight at Houseboat. Kumarakom slumbers on the banks of the famous Vembanad Lake, which is a part of Kuttanad ('granary' of Kerala). The Vembanad Lake with its majestic canals, streams and distributaries along its banks weave an intricate and enchantingly beautiful web. The gorgeous green of the fringed palms ripple in the blue waters and blend into wavelets. The entire state of Kerala is blessed with plenty of rivers and the resources of many are still untapped. The waterways of Kerala which play a main role in the economy of the state links remote villages and islands with the main land. The water ways provide a cheap and economical mode of transport. The water ways of Kuttanad is now a big attraction for tourist. It is incredibly different experience to cruise in the backwaters in country boats, absorbing the beauty of Kerala villages. The scenery flashes up vivid contrasts of breath-taking greens and deep blues. Boat rides are available for tourist and others at nominal rates.

Day 7: House Boat Cruise
Today also you will be cruising through the backwaters of Kerala and stay overnight in the Houseboat.

Day 8: Alleppey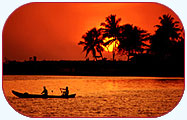 Disembark the boat at the reception of the backwater resort at Alleppey. Check in at the resort. This resort is one of the finest one in Alleppey Here you can enjoy the lively villages and backwaters. Overnight at Alleppy.

Alleppey: Alappuzha, formerly named as Alleppey, in Kerala is one of the major backwater destinations. The thrilling boat race awaits you at Alleppey or Alappuzha. Imagine to just lazing on a houseboat or enjoying fishing in Alleppey Kerala. Kuttanad is also known as the 'rice bowl' of the state, Kerala India. Alleppey is a captivating destination in Kerala India that provides backwaters, traditional Kettuvallooms (house boats), beaches, boat race, swaying palms, gourmet delight and many more.

Day 9 : Kochi
After breakfast proceed to Kochi. Reach and spend the day shopping. In the evening proceed for KATHAKALI DANCE PRESENTATION. Overnight at Kochi.

Day 10 : Departure
Breakfast at hotel. Visit Shiva Temple and transfer to airport/railway station according to the timings of flight/train.