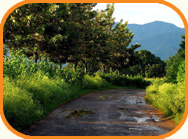 Haryana
Haryana is cradled amongst the Shivaliks, the lowest Himalayan range and the Aravallis in the south, that places it at quite a favorable location. these mountain ranges are covered battle sites like Panipat and Kurukshetra that have formed An important event in the calendar of Indian history, Haryana got an elaborate network of rivulets and canals, During monsoon the region is coverd by the lush green grass and one can spot foxes, mongooses, jackals and occasionally a tiger or panther also. In the first two weeks of February, Suraj Kund Crafts Mela takes place at Gurgaon, on the Delhi-Haryana border is quite famous among the tourist & art and craft enthusiastic.
Dargah of Bu Ali Shah Qalandar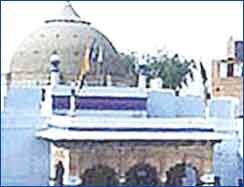 The tomb of the revered sufi saint, Bu Ali Shah Qalandar who lived in the 13th century AD has been a place of pilgrimage for people of religions. The grave is made of marble and decorated with beautiful sculpture. The monument underwent successive additions and alterations. Today, the Dargah beckons pilgrims from far and near and Urs Mubarak is celebrated joyously with Sufi abandon every year on the Saint's death anniversary

The Revered Sufi Saint
Bu Ali Shah Qalandar was born in 1209 AD when Qutubuddin Aibak was the ruler in Delhi . He lived for nearly 112 years and was deeply revered by both the Hindus and Muslims for his deep spirituality and miraculous powers. During phases of doubt and anguish, Alauddin Khilji, the Sultan of Delhi used to visit Bu-Ali-Shah-Qalandar at Panipat and seek his blessings. Amir Khusro was a frequent visitor to this Sufi Saint. Khusro was deeply moved by Bu-Ali-Shah-Qalandar's wisdom and words.


Lat-Ki Masjid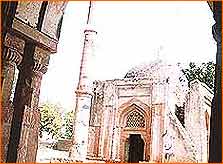 City: Hissar
State: Haryana
Location: North West India
Constructed By: Feroz Shah
Type of Construction: Medieval
Type of Building: Mosque
Religion: Islam
Accesibility: The nearest railway junction is at Hissar.

Built by :
Firuz Shah Tughluq, it conforms to the Tughluq style of architecture. Many buildings, L-shaped ablution tank and pillars form this whole edifice. Red and buff sandstones and rubble masonry having thick plasters are used for constructing this mosque. Main arched openings are supported on stone pillars. Floral and geometrical designs looted from the destroyed Hindu temples are used for the decoration of these stone pillars. Arches supported on pillars can also be seen in the nine bays of the main prayer hall. There is a carved 'Qibla' and a pulpit (on the wall in the west) inside the prayer hall. Lat Ki Masjid is named after the construction of a 'Lat' within the courtyard in the north-east. Made of sandstone, this 'Lat' is a part of an Ashoka pillar. The pillar is recognized so because of the presence of inscription in Mauryan Brahmi. The nearest railhead is Hissar Railway Station, a major junction of the North Western Railways. The nearest airport is the Indira Gandhi International Airport (161 km).

How To Get There
Air: The nearest airport is at Delhi.
Rail: The nearest railway junction is at Hissar.
Road: Hissar has a well-developed road network. .


Sheetla Devi Temple

City: Gurgaon
State: Haryana
Type of Construction: Ancient
Type of Building: Temple
Dedicated To: Goddess Durga
Other Deities: Sheetala devi
Religion: Hinduism
Location : Gurgaon, (Haryana)
Presiding Deity : Shri Mata Sheetla Devi
Significance : Shakti-Peeth
Time For Festivity : Through Out The Year Except August, Sept and Nov. to Feb.

Sheetla Devi Temple is situated at Gurgaon village, a suburb of Gurgaon, in the state of Haryana. The temple, standing near a pond, is dedicated to Mata Sheetla Devi. Sheetala Mata Mandir, situated near Delhi, is at times referred to as a "Shakti Peeth" and is considered as one of the most sacred Hindu pilgrimages in India. The temple is flooded by hoards of devotees, especially during the Hindu month of Chaitra (March-April). During this period also, the rush is exceptionally heavy on Mondays.