Historic Jharkhand Ranchi
Chutia A place in Ranchi which remained capital of the Nagbanshi for some time. It is famous for the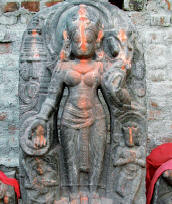 Radhaballabh Temple. According to an inscription on its northern wall, Hari Brahmachari who was the guru of Raja Raghu Nath of Chotanagpur constructed it during 1665-82.

Deori : 3 kms away from Tamar in Ranchi district is famous for a temple. It has a 'Solahbhuji Devi' considered to be installed by a tribal chief. The original walls and pillars are made of sandstone but now a new structure is being erected along the existing old temple.

Satbarwa : This village is situated 26 kms from Daltonganj on way to Ranchi. The district Gazetteer refers to ruins of some old temples.

Tilmi : Karra block of Ranchi contains the ruins of a fortress of the Hindu Nagbanshi Thakur. There is a stone built wall with an inscription which dates back to 1 737 A.D.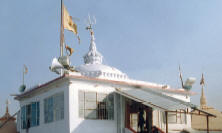 Kairo : Situated about 1 6 kms south of the block head quarters of Karra. It has a dilapidated palace and two big tanks known to have been built by king Hiralal Nath Sahdeo. There is a well in his palace compound which never dries up and is unfathomable. The village also has a 200 year old temple which is built in lime and mortar.

Kunjla : An Asura site, 4 kms south west of Khunti. The mound is covered with brick and pottery. Excavation exposed ruins of a brick house, almost complete on plain, measuring 19X6 m. The antiquities discovered in the excavation included a good number of iron objects. The pottery is coarse fabric, thick in section and made of clay with small bits of quartz.
Tamar : Nearly 65 kms from Ranchi shows ruins of stone age yielding blades, lunates and finely worked pots.

Belwadag : There is a remain resembling Buddha's Vihara located 3 km east of Khunti in Ranchi district. Excavation of this site 2 meters inside the ground has revealed that the Vihara had the solid foundation of the brick size of 70"xl 0"x 3". This brick size is similar to the brick size of Sanchi Stupa.

Jonha : Nearly 45 kms from Ranchi, at Jonha, also known as Gautam Dhara, several Buddhist statues have been discovered, along the Kanchi river.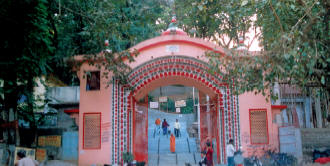 Ranchi Hill : At Ranchi, the temple atop the Ranchi Hill, Pahari to locals, is ordinarily known as Pahari Mandir- a temple dedicated to Lord Shiva. But on each Independence and Republic Day the national tricolour is hoisted atop the temple as a mark of respect towards those who sacrificed their lives during the freedom struggle.
Many of the freedom fighters were said to be put on the gallows there. When the country won freedom, the residents of Ranchi, decided to pay respect to those martyrs by hoisting the tricolour on the hill. And the tradition goes on...An unique gesture at a temple indeed.

So great was the cultural and creative crosswinds blowing over ancient Jharkhand that much before today's multiplex concept, someone had conceived an idea and actually started executing a religious multiplex at an obscure place called Dulli, near McCluskiegunj. Though unfortunately it couldn't be completed and the complex now holds only a temple and a mosque, leaving the gurudwara and church undelivered, the tolerance and respect the planner had shown to the religions and their followers deserve much credit.