fonte lactis ubertim manante:

atque aundante opis egentissimum et illoa dhuc uno alimento vitam ucentemon sortem non pati. sed blande tole ran tur haec, non quia .

read more>>
fonte lactis ubertim manante:

atque aundante opis egentissimum et illoa dhuc uno alimento vitam ucentemon sortem non pati. sed blande tole ran tur haec, non quia .

read more>>
fonte lactis ubertim manante:

atque aundante opis egentissimum et illoa dhuc uno alimento vitam ucentemon sortem non pati. sed blande tole ran tur haec, non quia .

read more>>

India Tours - Tourist Destinations of Gujarat
Gujarat is a state full of culture , heritage and history, Mahatma Gandhi was born at Porbandar , grew up in Rajkot and eastablished his Ashram at Sabarmati river near Ahmedabad. Tourist can find here sea roring over sparkling sand. The jungles are dense, lush and green, here lions walk ferrly in their own kingdom. Religioue places like pure and white Marble temples, mosques reflect the glory of the ages. Shined palaces and new eras water parks to enjoy and recharge. . Tourist can feel the rich cultural experiences of Gujrat in the towns Ahmedabad, Rajkot, Junagadh, Kutch, Veraval, Somnath, Porbandar, Bhuj, Diu Daman, Dwarka etc. General Info
Ahmedabad
Ahmedabad is the largest city in Gujarat, it blends h armoniously an ancient heritage with a vibrant present . The city is a famous business hub. It is well known for chemical and textile industries. The city has prosperous rich kaleidoscope of history, art and culture, architecture and imposing monuments. Tourists can visit Ahmedabad throughout the year. The famous places in Ahmedabad are Ahmed Shah's Mosque, Jhulta Minar, Jumma Masjid, Daria Khan's Ghummat, Siddi Sayyad's Mosque, Gita Mandir, Swami Narayan Temple, Balvatika, Rani Sipri's Mosque and Tomb, Rani Roopmati Mosque, Rauza of Shah Alam, Sabarmati Ashram, Siddhi Sayyad Mosque, Dada Hari Vav Hathisinh Mandir, Kankaria Lake, Teen Darwaza and Bhadra Fort.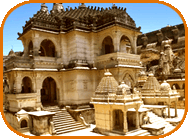 Bhavnagar
Bhavnagar is a beautiful coastal city and remained a major port, for almost two centuries. Bhavnagar has flourising maritime trade for years so as the result it is develope tremendously , urbanization , wealth and cosmopolitan culture introduce to the town.There are many Tourist Attractions in Bhavnagar - Takhteshwar Temple, Barton Library, Gangajalia Temple, Nilambag Palace, Palitana Jain Temples a few km. from Bhavnagar. it is a place of incredible tranquility and views over the cityscape to the sea.

Champaner
The ancient capital of Sultan Mahmud Beghara located at the foothills of the Pavagadh. Jama Masjid in Champaner is the finest examples of Sultanate architecture of Gujarat and a must visit too.The entire landscape for miles around is scattered with remains of fort walls, ruined tombs, gardens, arches, pillars and wells. Champaner reminds the tourist of other such great deserted towns of India Mandu, Hampi, Orchha and Fatehpur Sikri.
Surat
Surat was among the India's most prosperous and ancient trading port in 17th and 18th centuries. Surat is renowned for its weaving Industry. It's silk, cotton and gold and silver-worked-brocade saris. Today, Surat is a major industrial center with many textile mills.
Also known as the Green and neatest city of India. It is one of the leading exporters of diamond and texile products. Old Fort, the textile market, Dumas Hajira and Dandi are some of interesting places in Surat.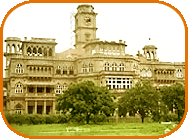 Rajkot
Rajkot, a bustling and prosperous town of Gujarat, of great historical significance of Saurashtra and British too.There are many smallscale industries in Rajkot. Mirror-work, jewellery market, Bandhani Sarees, patch work, bead work, silk embroidery and watch parts are specialty of Rajkot.some of the places that you should visit are Jubillee Park, Watson Museum, Aaji Dam, Ishwariya, SwamiNarayan Temple and Dolls Museum .

Jamnagar
known as the Jewel of Kathiawar Jamnagar is Located on the coast of Gulf of Kutch, Jamnagar is also known for its tie & dye work on fabrics, silken & gold embroidery.The city was built around the small Ranmal Lake.Today, it is more popular for having the only Ayurvedic University in India and a temple listed in the Guinness Book of Records. Jamnagar travel will bring you closer to the ethos and culture of the Gujurat state. Places to attrect tourists are Jain Temples, Lakhota Palace and Kotha Bastion , Bhujio Kotho, Marine National Park.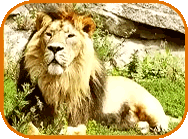 RajkotSasangir
It is one of the biggest tourist attractions in Gujarat. Gir Forest earns it fame as the only place outside Africa to harbour Asiatic Lions. Besides the lions, you can also spot Indian deer, sambar, chital, nilgai, chinkara and a variety of birds. The Sanctuary is open to visitors from Mid October to Mid June, While during monsoon months the Sanctuary remains closed.Permission to visit the sanctuary is given by Forest Department.