Location: 8 km from Bhubaneshwar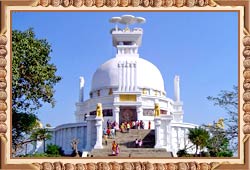 Dhauli Hill, one of the most visited Buddhist pilgrim destinations in India, is situated in the state of Orissa. It is located in the Khurda district, at a distance of approximately 8 km from Bhubaneswar. The hill represents the place where, after witnessing the carnage of Kalinga War, Emperor Ashoka relinquished war and adopted Buddhism. Serving as a proof of this renunciation are the edicts of the Emperor, which have been preserved here.

It is in these edicts that he had asked his administrators to rule with equality and compassion. One of the major attractions of the Dhauli Hills is a Shanti Stupa (Peace Pagoda). Situated on the opposite hill, this stupa was built by the Indians, in collaboration with the Japanese. It is circular edifice, which is adorned with a mushroom-like dome on top. Of the numerous stone panels in the stupa, the main panel is the one that has the reclining Buddha.

Along with Lord Buddha, it also comprises of His footprints, an elephant procession, the Bodhi Tree, a sleeping beauty, a horse back procession and Emperor Ashoka, relinquishing war by presenting his sword to Lord Buddha. Dhauli Hill is also quite famous for the Saddharma Vihar Monastery and a number of rock-cut caves. Not to be missed are numerous Hindu temples, which date back to the medieval age.