Barauli, Bihar
Barauli is a city in the Gopalganj district of Bihar.
Barauli is a city as well as a notified area located in the administrative district of Gopalganj in the state of Bihar in India. The district headquarters are situated in the town of Gopalganj. The district is a part of the Saran Division. It covers an area of 2033 square km and has a population of 2,149,343 (as per the Indian census of 2001). Out of these 1607444 people live in the rural areas and 96866 in the urban areas. The blocks included under this district are Uchakagaon, Gopalganj, Barauli, Vijayeepur, Kuchaikot, Kateya, Hathua, Baikunthpur, Thawe, Panchdevari, Sindhwalia, Sasamusa, Bhore, Manjha and Phulwaria. The main crops grown here are paddy, wheat, sugarcane and maize. There are many sugar factories and vegetable oil mills in the district. The main river flowing throuigh the distreict is the Gandak.The Gopalganj district is an important agricultural hub in the north of Bihar. Being a chief district in the area, it has several secondary and tertiary industries whose primary source is agriculture. Some of these are the cold storages, the running sugar mills (4 in number) and the like. As the national highway 28 (the national highway between delhi and kolkata) passes through this district,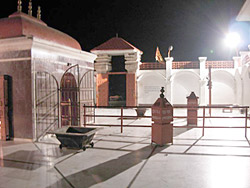 it has a huge potential to expand as a business centre. Besides trading in material goods, it is a large centre of agri business and dairy products in the area. Thawe is a very consecrated place in the Gopalganj District dedicated to the Goddess Durga. On Mondays and Fridays, there is a rush of devotees at the Thawe Temple. Thawe comes under the 24 "ShaktiPiths" of Ma Durga located in different parts of India.

The exact location of the city of Barauli is at 26.4° North and 84.58° East. It has a mean elevation of 65 metres (213 feet). As per the 2001 India census, Barauli has a population of 34,643. Males and females respectively constitute 49% and 51% of the population. Barauli has a mean literacy rate of 41%, lower than the countrywide standard of 59.5%. 64% of the males and 36% of the females are literate. One fifth of the total population is children below six years of age.