Vaisali Bihar
Mahavira, the founder of Jainism was born at Vaisali and it was here Buddha delivered his last sermon.
Vaisali is located in the Bihar state of India. The history of the city finds mention in the Mahabharata as well as in Buddhist and Jain tradition. The district headquarters of Vaisali is Hajipur town. The city was earlier known as Muzzafarpur district. At the time of Buddha, Vaisali was a rich and prosperous city. Mahavira, the founder of Jainism was born here and he spent most of his time here.

History of Vaisali
The place derives its name from King Vishal of the Mahabharata age. Before the advent of Buddhism and Jainism, Vaisali was perhaps the first republic in the world. According to the Vishnu Purana there were 34 kings in Vaisali. The first king was Nabhaga and the last king was Suamti, who was considered to be th econtemporary of King
Dasharatta. In the republic of Vaishali, Lord Mahavira was born. It was at Vaisali that Buddha delivered his last sermon .

The district of Vaishali came in to existence on 12/10/1972. Earlier it was the part of old Muzzafarpur district.

Geography of Vaisali
Vaishali district is a part of Tirhut division. The town of Vaisali is also known as Visala. Outside the town, leading uninterruptedly up to the Himalaya, is the Mahavana, a large, natural forest. Near by are other forests, such as Gosingalasála. The location of Vaishali is at the following coordinates: 25.986595° N 85.125589° E Coordinates: 25.986595° N 85.125589° E. the district covers an area around 2036 km² and the population is around two million.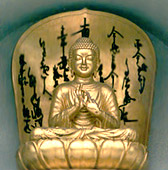 Places of Interest in Vaisali
Relic stupa: which contains the relics of Lord Mahavira.
Kutagarasala Vihara: is the monastery where Buddha most frequently stayed while visiting Vaishali.
Coronation Tank: the water contained in the tank is believed to be holy.
World Peace Pagoda: stands next to the coronation tank built by the Nipponzan Myohoji sect of Japan. A small part of the Buddha`s relics found in Vaishali have been enshrined in the foundation.