Murliganj Madhepura
Murliganj is a taluk headquarters situated in the Madhepura district of Bihar.
Murliganj is a city and a taluk headquarters situated in the Madhepura district of the eastern state of India, Bihar. It is about in the east of Madhepura, the district headquarters at a distance of 20 km. The NH 107 runs through the town. The nearest access points are Patna Airport and the Murliganj Railway Station on the Madhepura-Purnia rail route. Resting at a height of 52 metres (170 feet) above mean sea level, geographically, the town is located between 25.9° North latitude and 86.98° East longitude.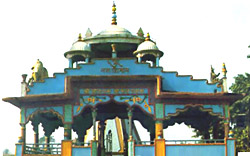 Detailed information about the town is provided in the Indian Census report of 2001. According to the report, Murliganj had a population of 22,921. Males account for 53% of the population and the females constitutes the remaining 47%. In Murliganj, 19% of the population is less than six years of age.The average literacy rate of Murliganj is 45%, which is much lower than the national average literacy rate, which is 59.5%. To be specific, the male literacy rate is 53% and the female literacy rate is 37%.

The Singheshwar Temple, which is dedicated to Lord Shiva, is an important shrine in the town.